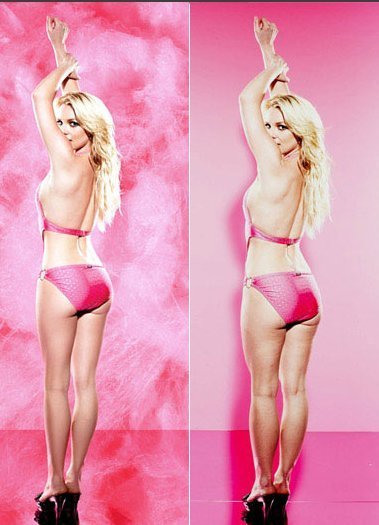 There has been a lot of discussion of whether Britney Spears's recent release of untouched versions of images of her half-naked body just is another case of "bourgeois body image feminism" and not the worthwhile struggle for "real gender equality".

But c'mon, you gotta give Britney credit for exposing her behind like this with cellulite and everything. Most women look like the gal on the right, not the gal on the left. The one on the left is the result of heavy photoshop brushing, not the real thing. Dream on guys.

Or better: stop dreaming. If you really want someone who looks like the girl on the left, you probably have pedophile tendencies cuz that's how a 10-year-old looks. Once the teen hormones kick in, fat cells naturally get filled, and they don't get filled evenly. Or maybe you should join an association for anorexic girls. If you are lucky, sick starving girls might look like that too (HT: Feminist Philosophers).